About Community Equipment
Equipment can range from simple toilet raisers, perching stools and shower chairs to more complex equipment such as hoists, standing aids and profiling beds.
Our CES services can also provide Technology Enabled Care products such as falls pendants, medication dispensers and other household sensors that will keep people safe and living an independent life.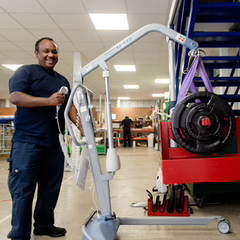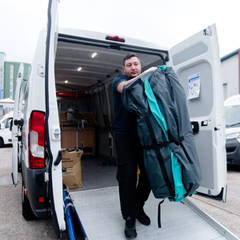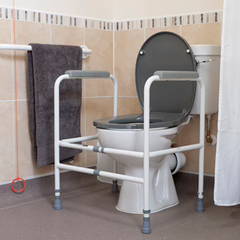 ---
How to access our Community Equipment Services
NHS or Social Care Provision
The first point of contact will be your GP, or local health authority. If you're eligible, your designated health professional will carry out an assessment with you either in your home or hospital environment to ascertain your equipment needs.
They'll discuss with you the type of equipment that would best support your needs and lifestyle and help you to achieve your chosen outcomes.
They will then order the appropriate equipment to meet your needs through our online ordering system.
Delivery of Equipment
Once your equipment has been ordered, our customer services team will contact you to arrange a convenient delivery slot. If you are not available then we can contact a family member or carer instead. Once your delivery is scheduled, one of our friendly, trained technicians will come out to your home to deliver and install the equipment.
Support & Repair
Our mission is to ensure you have the right equipment to live an independent life. Our customer services team will be happy to answer any questions that you may have in relation to the delivery and installation of your equipment.
We also provide a 24-hour, 365-day emergency repair service. The out of hours call centre will discuss the problem with you and arrange an urgent repair if necessary. If we can't fix the equipment then we will replace it.
Trusted Assessors
Some of our existing NHS contracts have commissioned Millbrook Healthcare to develop its own team of Trusted Assessors (TA). A Trusted Assessor works alongside your health professional to carry out an environmental risk assessment in order to identify and install 'low' level equipment solutions on behalf of them. 
This approach enables your health professional to concentrate on complex or higher need assessments while still providing you with the right disability equipment for your needs. 
All Trusted Assessors are qualified, trained and monitored by Millbrooks team of Occupational Therapists.
Self-purchasing Equipment
If the product you're looking for is not covered under your NHS or social care provision, you can purchase your own equipment from our online shop. We have a wide range of community equipment that will help you live an independent life, every day.
---